Description
Component 1 for the 2-component product BIO greenPOWER "Special" with active oxygen for well and filter regeneration
is used especially for the regeneration of wells and gravel filters with acid-sensitive lining materials (e.g. OBO filters, stainless steel)
free from hydrochloric acid and chlorides
Container sizes depending on availability.
Labeling: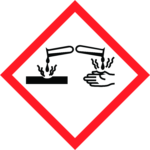 Danger
Hazard statements:
May be corrosive to metals.
Causes severe skin burns and eye damage.
Safety instructions:
Wear protective gloves/protective clothing/eye protection/face protection.
IF INTOXICATED: Rinse out mouth. DO NOT induce vomiting.
IF ON SKIN (or hair): Remove all contaminated clothing immediately. Wash off/shower skin with water.
IF IN EYES: Rinse cautiously with water for several minutes. Remove any existing contact lenses if possible. Continue rinsing.
IF EXPOSED or if affected: Call a POISON CENTER/physician immediately.
Notice:
Product packaging may differ from the illustrations.