Description
Softening of all woodworking machines and tools, such as milling cutters, circular saws, gang saws, band saws, etc.
Features:
– highly concentrated, time-saving, alkaline resin solvent for all woodworking tools
– odorless, incombustible, biodegradable and does not develop narcotic or health hazardous vapors
– acid-free, so that there is no risk of hydrogen formation and the associated pickling brittleness
– removes gumming, oil deposits, dirt, glue, lignin and light rust deposits within a short time
– is gentle on tools and machinery even during prolonged use and can be processed without special safety precautions. Tools (except those made of light metal) can be left in the immersion bath overnight without hesitation.
Labeling: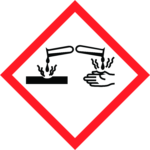 Danger
Hazard statements:
May be corrosive to metals.
Causes severe skin burns and eye damage.
Safety instructions:
Store only in original container.
Wear protective gloves/protective clothing/eye protection/face protection.
IF INTOXICATED: Rinse out mouth. DO NOT induce vomiting.
IF ON SKIN (or hair): Remove all contaminated clothing immediately. Wash off/shower skin with water.
IF IN EYES: Rinse cautiously with water for several minutes. Remove any existing contact lenses if possible. Continue rinsing.
IF EXPOSED or if affected: Call a POISON CENTER/physician immediately.
Additional information
| | |
| --- | --- |
| pack size | depending on availability |