Description
Two-component product with active oxygen, proven for fine cleaning of drinking water systems and stainless steel system parts in a single step
HYDRO pipes2CLEAN is used for the disinfection of pipelines, drinking water tanks and wells with stainless steel linings and ensures the desired sterility. HYDRO pipes2CLEAN is also used for filter cake dispersion and well desanding.
HYDRO pipes2CLEAN eliminates bacteria, fungi, algae and microbial slime and has been specially developed for stainless steel linings and installations. Compared to chlorine preparations, HYDRO pipes2CLEAN is characterized by its safe action and odorlessness.
Application:
HYDRO pipes2CLEAN is a two-component product (Art. No. 1.20160.20, 20 kg à 2×10 kg canister) and consists of:
HYDRO pipes2CLEAN A (fine cleaner) and
pipes2CLEAN activ B
in a mixing ratio of 1:1. It must be mixed immediately before processing and processed immediately.
Since oxygen is released, do not store in closed containers. The CARELA® equipment specially adapted to HYDRO pipes2CLEAN is recommended for processing. Do not mix HYDRO pipes2CLEAN with chlorine or products containing chlorine (chlorine gas development).
Labeling: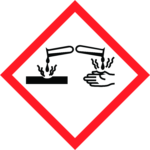 Danger
Hazard statements:
May be corrosive to metals.
Causes severe skin burns and eye damage.
Safety instructions:
Wear protective gloves/protective clothing/eye protection/face protection.
IF INTOXICATED: Rinse out mouth. DO NOT induce vomiting.
IF ON SKIN (or hair): Remove all contaminated clothing immediately. Wash off/shower skin with water.
IF IN EYES: Rinse cautiously with water for several minutes. Remove any existing contact lenses if possible. Continue rinsing. IF EXPOSED or if affected: Call a POISON CENTER/physician immediately.
Contains sodium hydrogen sulfate, sulfuric acid, phosphoric acid.
Notice:
The usual precautionary measures when handling chemicals must be observed. For further details, see work instructions. No warranty because of the versatility of the application.
For further information, please call our technical consultants at +49 7623 72240.
Packaging unit (PU) / container size: 10 kg canister
Product packaging may differ from the illustrations