Description
For neutralization of the rinsing and dirty water produced when using alkaline products
Description:
Additive for use in drinking water system cleaning. By mixing in the liquid, the rinsing and dirty water is neutralized and can thus be disposed of via the sewage system without hesitation.
– Simple handling
– Protection against possible corrosion
Container sizes depending on availability.
Labeling: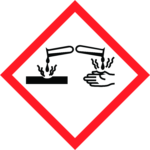 Danger
Hazard statements:
May be corrosive to metals.
Causes severe skin burns and eye damage.
Safety instructions:
Wear protective gloves/protective clothing/eye protection/face protection.
IF INTOXICATED: Rinse out mouth. DO NOT induce vomiting.
IF ON SKIN (or hair): Remove all contaminated clothing immediately. Wash off/shower skin with water.
IF IN EYES: Rinse cautiously with water for several minutes. Remove any existing contact lenses if possible. Continue rinsing.
IF EXPOSED or if affected: Call a POISON CENTER/physician immediately.
Notice:
Keep out of the reach of children.
– Keep cleaning agents out of the reach of children.
– Do not store cleaning agents near beverage bottles because of the risk of confusion.
– Do not decant cleaning agents into beverage bottles under any circumstances. The cleaning agents could be mistaken for food and thus drunk.
Before placing an order, it is necessary to record the customer data. Please register now!
Product packaging may differ from the illustrations.