Description
Quick cleaner for plants and equipment in the water supply. Excellent for machines, pumps, fittings and pipes.
Description:
Removes oil deposits, gumming, dirt of any kind as well as light rust deposits and flash rust. Antistatic and anti-corrosive effect.
– automatic and time saving
– odorless and incombustible
– liquid concentrate
– Biodegradable
– chlorine and phosphate free
– free from solvents and acids
– antistatic and anti-corrosive
Application:
Always use cleaning concentrate diluted with water.
Normal soiling: 1 : 20
Heavier soiling: 1 : 10
In steam jet or high pressure equipment: 1 : 100
For clean and economical application, we recommend our proven accessories, such as special alkali-resistant hand sprayers.
For further details, see work instructions. No warranty because of the versatility of the application.
Notice:
Keep out of the reach of children.
Labeling: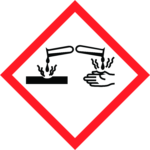 Danger
Hazard statements:
May be corrosive to metals.
Causes severe skin burns and eye damage.
Safety instructions:
Store only in original container.
Wear protective gloves/protective clothing/eye protection/face protection.
IF INTOXICATED: Rinse out mouth. DO NOT induce vomiting.
IF ON SKIN (or hair): Remove all contaminated clothing immediately. Wash off/shower skin with water.
IF IN EYES: Rinse cautiously with water for several minutes. Remove any existing contact lenses if possible. Continue rinsing.
IF EXPOSED or if affected: Call a POISON CENTER/physician immediately.
Additional information
| | |
| --- | --- |
| pack size | depending on availability |